Thank you for passing by!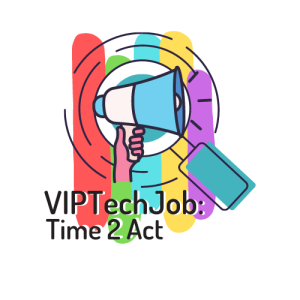 The partners of the project
About
The VIP Tech Job: Time 2 Act! project is addressed to visually impaired people (VIPs) and aims to support their inclusion and integration through employment, while also promoting active citizenship and lifelong learning. This is planned to happen through a series of intervention and improvement steps in accessibility both online and physically.
The project will create 3 different results in the form of learning materials and interactive resources based on the results VIP Tech Job project (the parent project*), taking into consideration accessibility issues which directly involve VIPs through focus groups, learning activities, international mobilities and events.
Current status
At this stage, the partners have started working on the development of the foreseen results.
The website is currently under development, so unfortunately you cannot access our content yet. But don't worry, you will be able to check out the full version in a few weeks.
Stay tuned for 30/11 when our website will be ready!
Do you want to be notified each time there is a development concerning the project? If yes, give us your email in the subscription box below! All your information are protected by GDPR and they will only be used to send you updates on the project.